February 28, 2015
comics, creators, illustration
No Comments
Saturday – 28 February 2015
Looking at the comics below, I realized that I had a little something that should be recognized for Black History Month: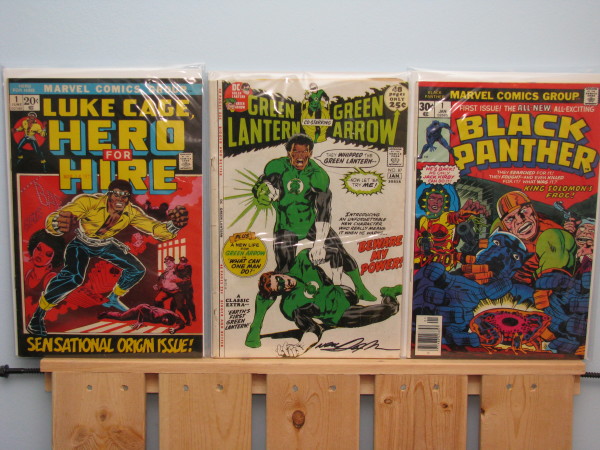 Those books are:
The first issue of Marvel's Luke Cage: Hero for Hire;
the first appearance of DC Comics' Green Lantern John Stewart; and
The first issue of Marvel's Black Panther.
All of the books were found, courtesy of my local comic shop, Dr. Volt's Comic Connection. They know me well and look out for me.
They also afforded me the opportunity to have the issue of Green Lantern signed by Neal Adams, the man who created John Stewart… who just happens to be my favorite Green Lantern. Even better, he recounted the story of how he came to create the character:
Mr. Adams looked at me and asked, "So you found something else…?" I replied that of all the Lanterns, John Stewart was my favorite. He signed it and, putting down his pen, said: "With this, you've earned the right to hear the story of John Stewart." He then proceeded to tell this story:

He had gone to Julius Schwartz with the idea that Green Lantern Hal Jordan needed a backup, in case something happened to him. Schwartz told him that Jordan already had a backup: Guy Gardner.

Adams retorted with: "So, a purple alien comes to Earth, dying, and sends his ring out to find a worthy successor. It passes Batman, Superman and all of the other heroes in the DC Universe and finds… a test pilot. Now, I'm a big fan of Chuck Yeager, so I get it. But, when the time comes to find another worthy person, the ring goes out again… and passes Batman and Superman – again – and finds… a white, blonde, gym teacher. What about all the other people in the world? Is it just going to pass them by?! Twice!?"

"Gardner needs to get hit by a bus. If he just breaks his arm, he'll be back – good as new – in a month. If he gets hit by a bus, he'll be out of action for a while. There would have to be a new backup."

Schwartz realized that Adams wanted to introduce a minority character as Jordan's backup. He tried to dissuade him by saying that Hal Jordan's mechanic was Asian. Adams said, "Yeah, and you call him 'Pieface!' That's offensive." They went back and for a bit, but Schwartz eventually relented and said "Denny (O'Neill) will write it and YOU have to draw him."

And he did.

When the story was done, O'Neill handed it off to Adams… who didn't get far into the story before finding another point of contention: the name – "Lincoln Washington." He confronted O'Neill, who told him that it wasn't his idea and that Schwartz had come up with it. Adams went to Schwartz "…and closed the door, because I knew there would be shouting." He argued against the name, calling it not only offensive, but also noting how blacks of the day were changing their names to get away from 'slave names.' He also told Schwartz that he could keep the name, if he was adamant, but that e would also fill his office with letters from angry readers. Schwartz responded that he "…[knew] guys with those kinds of names," and then asked Adams what kind of name he should give him. Adams simply replied, "A name. A real name. Just… pull out any name." Schwartz eventually relented and told Adams to come up with a name. He picked "John Stewart." He then laughed and asked, "How was I supposed to know that he was going to be come a comedian?"

He wrapped up his story with the following epilogues:

"This story has two endings.

Ending Two: DC wound up making a movie with Hal Jordan, Green Lantern. There were 10 million kids who were asking 'Who's Hal Jordan!?' Putting Jordan in the movie, they basically went from Gil Kane straight to Geoff Johns, jumping over me and Denny O'Neill – our names weren't even credited. And, DC lost $150 million dollars on the movie.

Ending One: When I pitched the idea of a black Green Lantern, I did it because I could draw a black person and no one else could or did. All of the artists, even the black ones, were just drawing white faces and then having them colored to be black. And they were drawing them with wavy hair. Black people don't have wavy hair, they have kinky hair. It takes a whole lot of shit to make it wavy. And we also had to put the color notations in our artwork, so that the colorists would know how to color the characters. Black characters up to that point were all light-skinned, we used to call it 'khaki brown.' When I put in my color notations for John Stewart, I made him dark. Julie Schwartz and (publisher whose name I don't recall) came to him and asked, " Are you sure that you want him this dark?" Adams confirmed his intention. He then added, "Then they asked me something that has stuck with me until this day: 'Aren't black people going to be offended?" Adams laughed and said, "You can send me the first letter."
And, with that, I can let Black History Month and #BlackComicsMonth go.