March 19, 2017
conventions
No Comments
Sunday – 19 March 2017
This past Friday and Saturday, Salt Lake Comic Con presented their third Fan Experience or "FanX" event. Two days of celebrities, artists, authors, panels, and vendors celebrating all manner of fandoms, not just comic-related ones.
I attended both days. The first day, I didn't have a particular agenda in mind, so I wandered the floor. It served as a good opportunity to check out artists and vendors. I also hung out at the Dr. Volt's Comic Connection booth for a while. The second day, I brought my friend, Andy, to his first-ever con. It was like watching the proverbial kid in a candy store. I was content to roam around with him, as he took in everything.
Also, on Day Two, I was a panelist on the "Diversity in Cosplay" panel.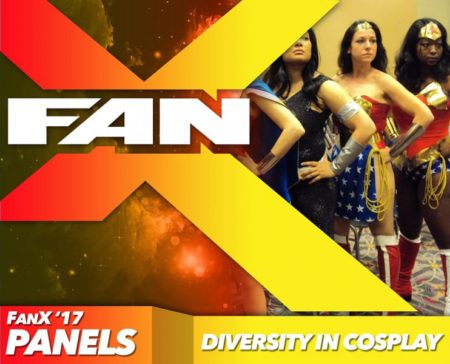 My co-panelists were:
Our panel opened with Jay explaining "why" there still needed to be this kind of panel. From there, it explored topics including: gender-bending/race-bending/and body type-bending and making cosplay your own (not worrying about what others might think or say), what got us into cosplay, our favorite cosplay, our most proud moments in cosplay. We also took a number of good questions from the audience. It was an honor to be a part of the panel and a pleasure to meet my fellow panelists. If you aren't familiar with their work, please take a few minutes to check them out.
After the panel, there was a bit more wandering before calling it a day.
In all, I found this FanX to be another great con experience; I look forward to what the the Salt Lake Comic Con team plans for September.
And now, the pictures!