Bandette
June 10, 2016
11:21 pm
comics
Friday – 10 June 2016
This evening, I spent some time getting reacquainted with a series that caught my eye a while back: Bandette, from Paul Tobin, Colleen Coover and Monkeybrain Comics.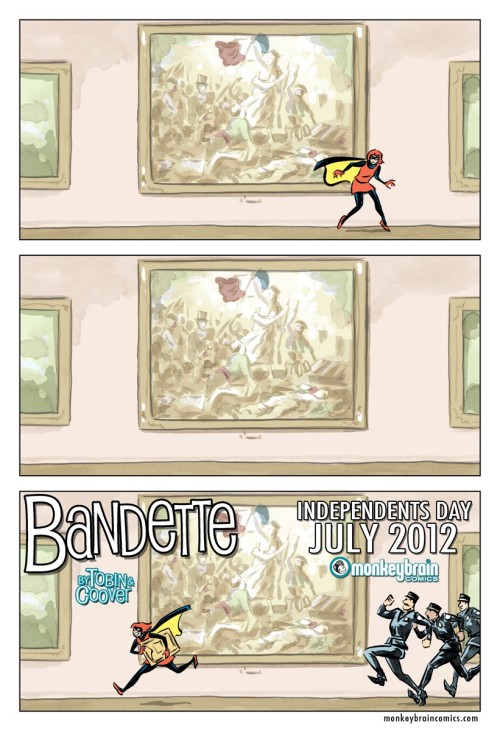 Bandette is… well… here, let's just take a look at what Mr. Tobin had to say about it (excerpted from an interview on Comicsverse)1:
Bandette is a carefree teen thief in sort of a fake Paris. Its a very French comic, its very Tintin-inspired. Even though I do love things like Colder and doing really unsettling horror, there's also a very carefree side to my writing, very whimsical. Bandette is that for me. She's a thief who works with the police every now and then. She fights a secret organization of evil masterminds called FINIS. And she steals a lot of things! Basically, it's as charming as we can make it.
And there you go. And that, along with the picture above, is about the best possible summation of Bandette. Ever.
But, just in case that wasn't enough, there's also the description on Monkeybrain's Comixology site:
The adventures of Bandette, a young costumed "artful dodger", leader of a group of urchins dedicated to serving justice, except when thieving proves to be a bit more fun. The story of Bandette treads a thin line between Tintin and Nancy Drew, with a few costumes thrown in. Bandette and her crew at turns join forces and cross swords with the mysterious master thief known only as Monsieur, and one B.D. Belgique, perhaps the most harassed police inspector of all time.
I don't recall exactly how I first stumbled across the title, but I think that it might have been a Free Comic Book Day offering. However it happened, it was an excellent find. It's light-hearted and fun, which is getting difficult to find in books that aren't rated "All Ages."2 It is also a welcome change of pace from the traditional cape-and-tights fare that most people think of when they hear the words "comic books."
If you're looking for something new – and fun – to read, I suggest heading over to Comixology and checking out the first issue of Bandette. She'll steal your heart. (And your candy bars!)
1 – The interview can be read in its entirety here.
2 – This is not intended as a knock against "All Ages" books nor books for older readers. -Disclaimer Man