Salt Lake Comic Con 2017: Coda
September 26, 2017
12:19 am
comics, conventions, creators, illustration
Sunday – 24 September 2017
This past weekend, Salt Lake City was host to the fifth annual Salt Lake Comic Con (#SLCC17) – a three-day celebration of fandom. I missed the first day – Thanks, Universe! – but attended Friday and Saturday.
Friday
Friday saw me testing out a new variation of my Green Lantern costume – Varsity Green Lantern:
I met up with and played tour guide for my friend, Denise, who ventured south from Canada to check out the Con – I had talked about SLCC to her earlier in the year and suggested that she see and compare it to Calgary's Calgary Comic and Entertainment Expo and San Diego's event. And, she did.
The first part of the day was spent scouting the Con, checking out things to see once Sara! and Team DiVa arrived. One of my goals was to get the little ladies to meet Shea Fontana, author of DC SuperHero Girls comics, of which they are fans. Sara whipped up a Hawkgirl costume – including molding the helmet out of Worbla (first time she'd ever used it!) – and the girls went as the DC SuperHero Girls versions of Katana (Diana) and Bumblebee (V)
I was going to have some of their books signed… but managed to leave them in my car. D'oh! I told them that I would get them signed the next day. They were, fortunately, alright with this option. We then walked around, waiting for the girls to decide what they wanted to buy as a souvenir before they left – Vanessa wound up getting a Tentacle Kitty (work-safe); Diana, a parasol. A little later, Sara took the ladies off for dinner and pre-bedtime hanging out; Denise and I roamed and took in some panels before the show closed for the evening.
Saturday
I unveiled another new variation on an old theme: Nick Fury, as redesigned by Marvel artist Declan Shalvey. The idea for this came over a year ago, when Marvel was setting up their Civil War II storyline.
Backstory:
I went to my local comic shop and the guys congratulated me for being on the cover of a comic. Having no idea wheat they were talking about, they showed me the book:
At that point, I tweeted Mr. Shalvey, leading to this exchange:
@declanshalvey I'm a week late, but thanks for putting me on the cover of CWII:CS! 😏 @Marvel pic.twitter.com/VaLEepkSAA

— Robert Neal (@shadorunr) June 29, 2016
No problem. Where's your eyepatch!? https://t.co/PqmS7sOwUU

— Declan Shalvey (@declanshalvey) June 29, 2016
Is this better? I need to work on the younger Fury's uniform – with LEDs – for @slcomiccon… pic.twitter.com/SFKDfbqtiG

— Robert Neal (@shadorunr) June 29, 2016
HA! Works for me!

— Declan Shalvey (@declanshalvey) June 29, 2016
Thus, I decided to work up a costume based on that: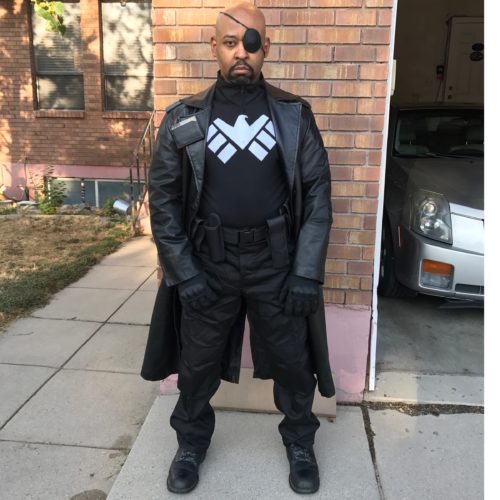 I was rather pleased with how it turned out.
For my second day at the con, I was scheduled to participate in two panels.
Comics as a Learning Tool for Beginning and Young Readers


I moderated this panel with the following people as panelists:
Get Out!: Modern Horror Classic and 2017's Most Important Film

I was just a panelist on this, along with:

Sean Means (moderator), film critic for the Salt Lake Tribune
Melissa Perez, panelist on Black Girl Nerds
Melissa Merlot, comedian and panelist on The LEFT Show
Dr. Paul White, professor at The University of Utah, and
Debra Jenson, professor at Utah State University
The "Comics as a Tool" panel was fantastic! My fellow panelists had some great anecdotal stories to share about how they – and either their children or children they've worked with – have used comics in the home and classroom. We also had a number of great questions from the audience. It was early in the morning (and not the largest turnout), but parents and teachers (!) came to hear what we had to say about using comics to help children begin to read and using comics to help young readers who are experiencing difficulty with reading.
After that, there was wandering, people-watching, picture-taking, and lunch.  Post-lunch, I took Denise to experience the joy of RubySnap. She's threatened to send cross-border requests for cookies; I may have created a monster.  Back to the con for more roaming before my last panel.
The Get Out! panel was just fun. Sean did a masterful job of guiding the discussion. We delved into the social commentary behind the movie, how it turned a number of norms on their ears, and issues of power and control. The hour we had for that panel felt far too short; I would have loved to have had another hour or more to peel back more layers of the movie. The audience not only asked good questions, but they also made a few salient points.
Following the panel, we went to the Grand Ballroom to watch the results of the Cosplay Contest. To be honest, I first went into the ballroom because of the music they were playing – I had to know what was going on. We entered during the period when the judges were voting on the winners and honorable mentions and there was a dance party going on at the front of the room. I wondered if Melodywise Cosplay was there… and, lo, did she walk across the stage moments later.
And then, all too soon, Salt Lake Comic Con 2017 was no more than a memory.
Thank you to the staff, volunteers, guests, and fans who continue to make Salt Lake Comic Con such a fun experience.
Pictures
Epilogue 1:
As I mentioned, I'd invited Denise down to compare Salt Lake Comic Con with other cons she'd attended. Her commentary:
I was pleasantly surprised at the quality, quantity, and variety of cosplay.
The people were so friendly and polite, it was almost like still being in Canada. 😃
I loved the variety and diversity of the panels.
I don't have the same feeling I do at the end of SDCC, where I had fun and enjoyed myself, but I need the year to recover so I can do it again. If there was another SLCC next weekend, I'd be right there.
Although, my favorite of her comments was something she tweeted the next day:
One of my big takeaways from Salt Lake City Comic Con is that while Calgary fests smell like minidonuts & weed, SLCC smells like a bakery.

— DeniseF (@yycsan) September 24, 2017
Epilogue 2:
As noted earlier, I did Saturday's costume based on a Twitter conversation with Declan Shalvey last year.  Naturally, I sent him a picture of the costume, which elicited this reply:
***GASP*** https://t.co/Q2kjZ9siBG

— Declan Shalvey (@declanshalvey) September 24, 2017
That really is amazing man 😊

— Declan Shalvey (@declanshalvey) September 24, 2017
Needless to say: My day was completely made.